We enjoy Canicross racing with our dogs. For those who do not know what Canicross is, it is the sport of running with your dog cross- country. The dog is attached to the runner using a comfy non-restrictive harness on the dog, bungee line between the two and hip belt on the runner.
Virtual Canicross races have really taken off during lockdown. We enter events online, usually 5 kilometer Canicross races. Then we time ourselves running with the dog on a sports watch or app such as Garmin or Strava. These measure the time and distance. The devices have to be set on "race" mode so they don't pause the time when you stop for a breather or the dog needs a call of nature.
The beauty of virtual races is that you can choose your own local route and make it as fast or tricky as you like. Rules usually dictate that the course can be no more than 50% downhill and you cannot follow a pace-setter on a bike! The results rely on honesty to an extent but why cheat on yourself? The results are then submitted by sending a photo of your device which includes time and distance, to the race organisers, who produce charts of rankings and send your medal. Profits generally go to many charitable causes including dog rescue.
Dennis and Dexter have loved these races. Getting their harnesses on means time for great fun in the fresh air and running in the beautiful forest. For us the advantages include no travelling around the country to compete, no fuel costs, minimal entry fees, no 'Greggs' outlay at services!. The dogs have a lovely run, no stress of a race with other dogs and all back home for breakfast when cooled down.
We have amassed more medals than in a normal Canicross season too!
If we are doing an event for mileage, not time, we choose smaller trails, single track, hills and mud. If it's an all-out buster of a speed race, we choose a section of cycle trail which is reasonably flat underfoot and with few distractions, such as wild boar .
BARBARA HARRISON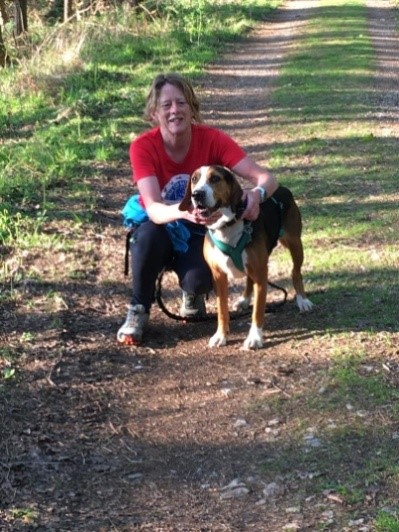 NEWS POSTED 26/05/2023:
(From Barb Morris)
Our Hamilton's Dennis (age 9 and a half) and DJ (2 yrs of age) were both brilliant at the Canix Fur Nations 2023 competition.
This is a fun series of Canicross races held at three different three locations.
Teams from England, Scotland and Wales compete for points for the overall winner's trophy.
Competitors can run for their chosen country for fun.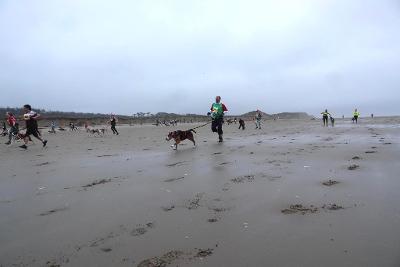 The first three races of the Fur Nations were held at Pembrey, Wales. This famous 'beach race' involves a hundred dogs and runners sprinting up the beach for a mile, around some rocks, then back.
The second leg was at Cannock, England and the third at Glamis Castle, Scotland.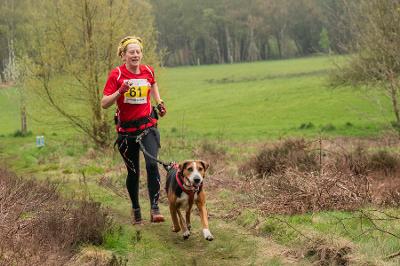 Dennis and DJ enjoyed themselves running for Wales!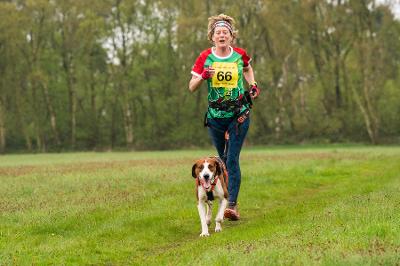 An update on canicross news: updated 2nd September 2023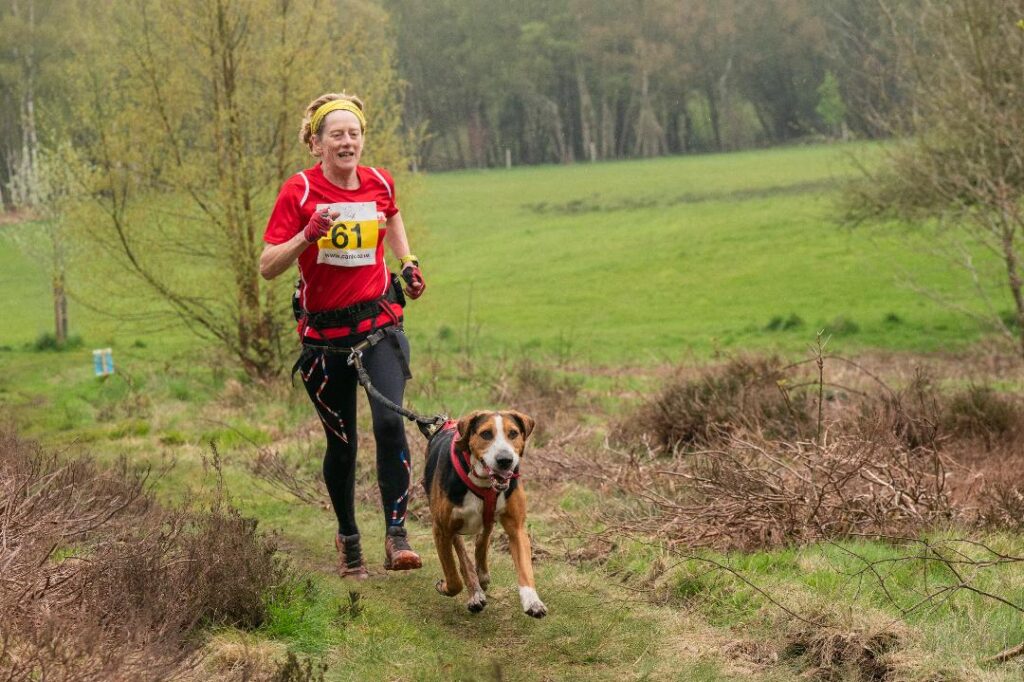 Barb and Briar Morris report that Dennis (Flixtonia Reason to Believe) is still running strong.
At nine and a half years old, Dennis and Barb ran for Wales in the Canix Fur Nations Cup canicross races at Cannock Country Park, Staffordshire. A very undulating 5k (3 miles) course which Dennis enjoyed.
The Fur Nations is a fun canicross series, where you run for your chosen country. There are three one day race weekends on the Bank Holidays in England, Scotland and Wales, each with different course challenges.
D.J. ( Derek Junior) Flixtonia Captain Sunshine at two and a half years old has really taken an interest in canicross. August Bank Holiday weekend, D.J. and Briar ran 11k (6 miles) at Pembrey Country Park, South Wales. The trail consisted of undulating sand dunes, grassy rides and forest floor, a super challenging mixture to test dog and runner! D.J. took it all in his stride, he is such a calm, happy boy. He was a super running friend for Briar. We were amazed to hear that they came 2nd in their category!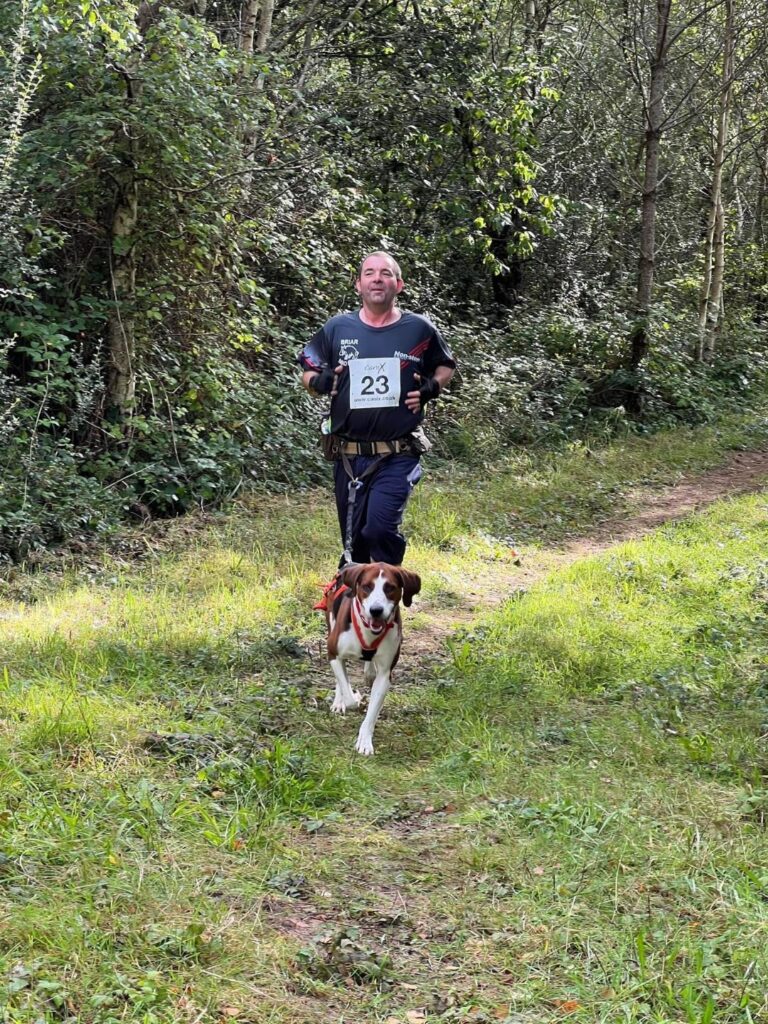 Next up is a " Cani-trail" mountain night race in South Wales near Bridgend(10 k). We are taking head-torches and hope!
D.J.is training up for a Cani-trail Half Marathon in the South Wales Hills in January 2024.
What super versatile Hamiltons we have!